Here at East Ferry Farm we specialise in Chicken, Free Range Turkey, Geese, Farm Fresh Duck & Eggs. Our top quality Irish free range poultry is reared on our family farm in the traditional way.
The family have been breeding quality poultry in East Cork for generations. All our free range turkey, geese and chickens are housed in mobile houses allowing the poultry to move freely from field to house. All this fresh air and exercise develops firm texture and a fuller flavour, when the bird eventually reaches the table.
East Ferry wants their free range chickens not just to taste good, but also to be affordable for families.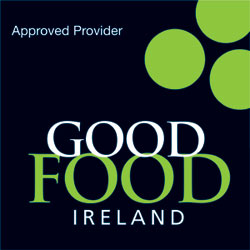 Free Range Licence: BMCD-4