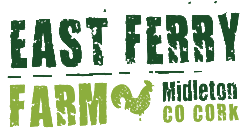 Thank you for ordering a free range Turkey or goose from East Ferry Farm

We pride ourselves on the quality of our free range turkeys and free range geese. We take every care to make sure that your bird gets to you in perfect condition.
The birds are individually sealed in food safe bags at the abattoir. Then immediately the Turkey's sealed bag is placed in a second wrapping which contains a gas flush. The gas flush does not come in contact with the Turkey meat. The gas flush is an important element of the packaging as it not only helps to keeps the temperature correct, but it also protects the Turkey from damage, it is in its own protective bubble.
The geese are not contained within in a gas flush, but they do have protective packaging to prevent damage in transit.
All the turkeys and geese are dispatched in a cardboard box containing icepacks within a further insulated delivery box. The birds are packed and also despatched from the refrigerated storage facility to maintain the low temperatures at all times.
KEEP YOUR BIRD AT THE RIGHT TEMPERATURE
We advise that as soon as the package is opened the bird is refrigerated. So if you have not yet made room in your fridge, don't open it up to "check it's okay", because the temperature will be disturbed.
The packaging is designed to keep the free range turkeys and geese at the optimum storage temperature until 23rd December. You may prefer to keep the bird in its undisturbed packaging in a cold shed or garage (below 5 degrees) rather than place in the fridge on 22nd.
DON'T FORGET THE GIBLETS!
Remember that there are giblets wrapped up in a bag contained in the cavity. The giblets can be used to make a wonderful stock for your Christmas gravy, but they will spoil your dinner if forgotten!
We wish you and your family a very happy Christmas and a joyful and prosperous 2018.
Thank you for your custom,
Robert and Yvonne
East Ferry Farm
East Ferry, Midleton, Co.Cork
086 2056020 – Robert
086 8548574 – Yvonne
www.eastferryfarm.com
info@eastferryfreerange.com
To unsubscribe use the link below or reply to this email with the subject unsubscribe