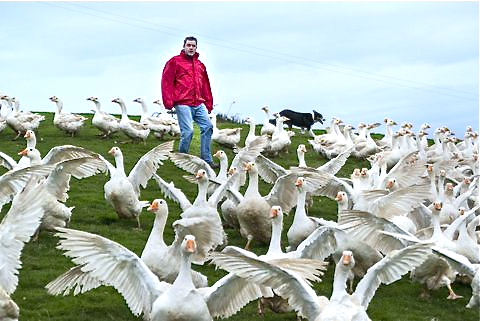 A free range goose will make your Christmas talked about for years to come. Free range geese used to be the standard for Christmas dinner and they are making a real comeback due celebrity chefs like Delia Smith, Richard Corrigan, Darina Allen, Antony Worrall Thompson and Hugh Fearnley-Whittingstall who favour the flavour of goose.
Geese are hatched in March and brought to the farm from Norfolk. The geese have constant access to heat, water and feed and are left out to grass as soon as they are strong enough, approximately 3/4 weeks of age. Geese are different to Chicken and Turkeys are they are natural grazers and can live off grass. They don't need constant cereals.
They are grown in the outdoors until the middle of October and are then housed with restricted access to the outdoors. They are still left out daily but for a reduced time. This is to allow them gain meat and fat content. Our geese are slaughtered each December on the Farm under Department of Agriculture supervision with the highest standards of welfare being maintained. These geese are dry plucked and wax finished to gain a high quality finish and are allowed hang for 12/14 days which in turn gives a superior flavour and texture to the meat.

Our online shop is open from October - December