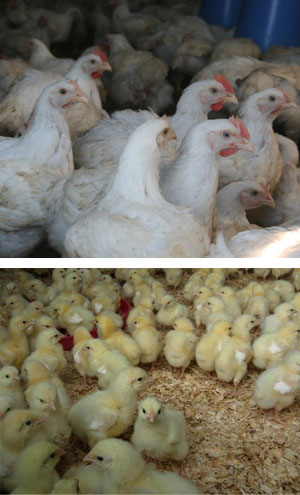 We are well known for our top quality Irish Free Range Chicken. We get Chickens as day olds from Spring Grove Hatcheries in Kanturk in Co. Cork. On the farm they are reared in brooding units under heat, ventilation and constant supervision to 25/26 days old. From the brooding house they are moved out to specialised well insulated large mobile units. The units are cool in the Summer and warm in the Winter, and are bedded in fresh straw daily for maximum comforts. Here they are free to roam on the lush green pastures of our grassland farm where they have access to the outdoors for all daylight hours in Winter and Summer.
Our birds are given free access to our rich pastureland and are able to graze, bathe and dig in a natural way. As a result, our birds are fine textured and delicious. As well as pecking on the grass they are fed on the highest quality 80% cereal diets. All these conditions contribute to top quality meat texture, flavour and moisture making our Free Range Chicken as flavoursome as possible.
The Chickens are grown to 56 days of age and are removed for slaughter all the time maintaining highest standard in welfare and living conditions. They are slaughtered in a Department of Agriculture licensed premises under veterinary supervision and are delivered to our shops, butchers and restaurants the very next day.

Our online shop is open from October - December